UPDATE #3 ON THE PALMDALE AKITAS
July 27, 2006
As this very hot month comes to an end, we all think about what would have happened to these 56 Akitas if they had not been confiscated by the Animal Regulation Department of Los Angeles County. Southern California has faced record breaking temperatures for 19 days in a row—119 degrees F. was recorded in Woodland Hills, the highest temperature ever recorded in that community. Palmdale, where these dogs were kept, is part of the desert, where triple-digit temperatures are normal though not quite as high as they have been during this heat wave. We all agree that many of these dogs would not have survived this heat wave—nearly all of them were very thin, covered with ticks, suffering skin sores and many, if not all of these Akitas were infected with the tick-borne disease, Rocky Mountain Spotted Fever, which can be fatal.
As the animal shelters evaluated temperament, the Akitas were spayed or neutered, then released to the group working to salvage the dogs. This is the perfect opportunity to extend sincere gratitude and thanks to some incredible people who stepped up to help these Akitas. We were amazed, relieved and thrilled with the response from one of the oldest Akita clubs in the country—the Inland Empire Akita Club. These are folks with a lot of breed experience, making their contributions of time, very valuable.
Carol and Bill Bobrow have been true to their breed by arranging to take 4 Akitas into nearby kennels. They accepted the dogs that were believed "questionable," and so far, every one of those Akitas has turned out to be worth the effort.
When Carol and Bill contacted us with their offer of assistance, we were overwhelmed since Bill's training experience with Akitas is well known and just what we needed. Lille Hoyes (Red Arrow Kennels in Fontana) deserves our eternal gratitude for making room for these Akitas just before the busy July 4th Holiday.
Meanwhile, the animal shelters have begun to medically treat these dogs as needed, and have been extremely cooperative by housing the dogs until we can move them into kennels or foster homes.
At the recommendation of staff members with Los Angeles County, we were able to secure 10 affordable kennels at Bark Avenue Kennel, in Los Angeles, a boarding facility run by Flo and her great staff. This wonderful resource has provided excellent, compassionate care for the Akitas.
"Thanks" seems so inadequate to acknowledge the help given to us by Jill Holt (groomer extraordinaire) for connecting us with Debbie Skinner at Sage, CA kennels – a friend of Jill's.
We are also very grateful to Gail Lowry of Red Dawn Akitas, Cathedral City, CA - for informing David Vonk of our need for kennel space; and to David Vonk for informing his mom Cindy Muller and sister Kim at Mountain Shadows Kennel, San Jacinto, CA.
You cannot imagine how difficult it is to find quality boarding kennels at the last minute with July 4th looming on the horizon! These Akitas had already suffered through days, months, even years of confinement in deplorable kennels—we could never send them back to such cruel suffering, so the importance of QUALITY kennels was our main concern. Imagine how these dogs felt when they were brought to these excellent facilities and given life-sustaining food, after their barely sustainable lives in Palmdale! We all know how fastidious an Akita can be!
Of the 56 Akitas taken on May 20th, two dogs were reclaimed (directly from the shelter) by their original owners. One dog is being held (by the shelter) for reclaim by the original owner--if he is not claimed we will move him to a private kennel and find him a foster or adoptive home.
Eight dogs have been adopted or moved to foster care; another one has a confirmed home but he is waiting for transport to Texas and recovering from his ordeal. He is an old guy and needs careful management but he has a marvelous home waiting for him in Texas.
Currently we have 12 Akitas housed at the Bark Avenue Kennel in downtown Los Angeles; two are housed at the kennel in Fontana, where they are working with Bill Bobrow. Two Akitas have already finished training with Bill and are deemed ready to meet potential adopters; they will be moving to the kennel in San Jacinto. We have six more Akitas who will be moving from shelters into two private kennels to work with Bill. Bill is working with a Fontana kennel and a new kennel facility in Phelan, CA where they are building several new runs for our Akitas; this is very close to where Bill Bobrow lives.
Nine Akitas will soon be moving from the animal shelters into three other private kennels--Bark Avenue in Los Angeles, the kennels in San Jacinto, and in Sage, CA, where they will recover, grow stronger, and eventually meet with prospective foster and adoptive homes. (Thank you Inland Empire Club for volunteering to help and for connecting us with kennel facilities in your areas!)
Foster or adoptive interest has been expressed for many more Akitas; visitations are currently taking place. This allows several folks to meet more than one dog before making their selection(s). TikiHut Rescue will be selecting five or more Akitas for transport to their area in Northern California within the next week or two.
This is all the good news we have to report, and it is a lot of GOOD NEWS. Please keep in mind that the good news far outweighs the bad news but no large rescue ever turns out to have 100% perfect, happy endings—there are always losses. We have lost six of these Akitas—one is extremely tragic because she was so sweet: Cher, the wonderful long-coat was either accidentally adopted out or accidentally euthanized at the Downey Animal Shelter. The staff at the shelter has been unable to determine how or why it happened. We can only pray that Cher was adopted. The heartbreak of Cher is compounded by the fact that we had a groomer who loved long-coats waiting to take on her tangles and knots!
Five Akitas were euthanized for serious, unrelenting people-aggressive behavior. They were carefully evaluated by a trainer and by Akita savvy people who all agreed that the dogs were probably dangerous. With so many Akitas needing help, the decision was made to allow them to be euthanized—a difficult and heartbreaking choice.
Four Akitas have not been released by the county because they are Wendy Reuben's personal dogs. They are Palmdale #1 (Cachi), Palmdale #8 (Simba), Palmdale #22 (Harmony), and Palmdale #25 (Muffin). Giving any Akita back to Wendy Reuben is not a decision that we participated in, and of course, we would be more than willing to take these four dogs as well if given the opportunity. They deserve to be given a second chance along with the others we are helping, but the choice is not ours to make.
WE STILL NEED… transportation help to move dogs from shelters and kennels in Los Angeles out to PHELAN, CA (near Victorville), SAN JACINTO, CA (near Hemet), and SAGE, CA (near Temecula). If anyone can offer help by driving from the shelter to the kennel, please call Cathy.
We also need a few more volunteers who can occasionally do pre-adoption HOME VISITS (we will provide a checklist), and to be available to help make introductions between dogs-and-people - - and between dogs-and-dogs at the kennel locations in Los Angeles, San Jacinto, and Sage, CA. If any one has some spare time that they can share with these Akitas, you would be welcomed and well rewarded with Akita gratitude.
AN UPDATE ON MICAH
Micah was the big brindle boy who was barely alive when he was rescued from the Palmdale kennel. He was one VERY sick Akita whose pain and suffering during his internment in Palmdale, in human terms, can only be called HELL! Micah was the first Akita taken from the shelter and rushed to veterinarians where he stayed until he showed signs of recovery. Nancy Lamm of ARWNY had arranged to have Lori and Bob Lober of Los Angeles share the responsibility for Micah. You can read about the miracle of healing and the emerging of a truly courageous Akita with a delightful personality at the ARWNY website by clicking on Micah's first photo: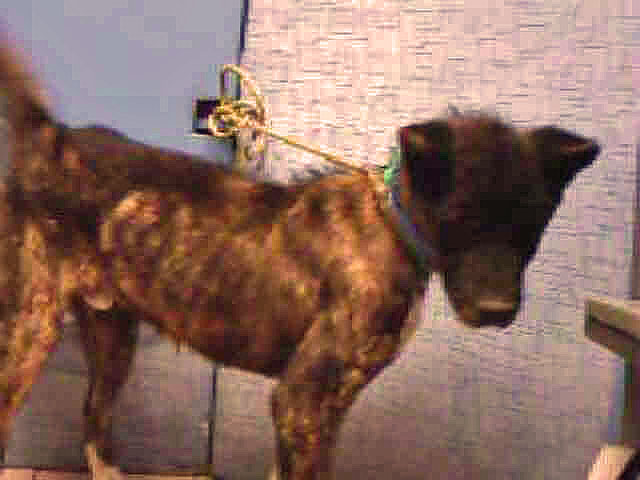 To see the updated list of Akitas and their status, click over to the updated photo list.
To offer assistance either as a volunteer or a driver, please contact one of these people:

For foster homes or kennel space, please contact
Cathy Masamitsu
(818) 892-6896
cpkm2@yahoo.com
Melody Lawrence
(310) 352-6392
melodylawrence@sbcglobal.net

For donations of funds to help with board bills and veterinary care, please contact Jeanne: akitamom@garlic.com
Please bookmark this page and visit it again to see more stories of these Akitas as they find what every Akita should have—a good home with honest people who pledge their loyalty to these marvelous dogs and treat them humanely with kindness and love. The human-Akita bond is so worthwhile when an Akita is lucky enough to find the right person.
Barbara Bouyet